wanderinspirits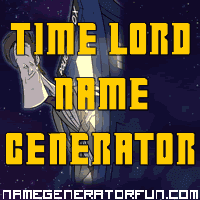 Your original Gallifreyan name is Jelexegreyagurdraquana, or Jelex for short. Back on Gallifrey, you led a dull and uninteresting life, working as an Assistant Manager at the Institute of Temporal Misunderstandings, based in the Capitol – but now, you travel Time and Space in search of adventure!
Your Type 43 TARDIS is currently stuck in disguise as a gypsy caravan, and your latest travelling companion is an unexpectedly 'humanised' and reformed Dalek, who is having to fight occasional extermination urges.
Get your own time lord name from the time lord name generator!